Belfast Hypnosis Center
About Alan Gilchrist – Belfast's Top Hypnotherapist has been in practice at his Belfast Hypnosis Center for over 26 years and is the longest practitioner and the most experienced  Hypnotherapist with the most successful Hypnosis Center in Belfast and throughout Northern Ireland.
During this time using Hypnosis in Belfast Alan Gilchrist has treated over 55,000 people to overcome their problems with the  use of his unique "Fast Track Hypnosis System"
 About Alan Gilchrist
As Alan says " People very often ask me why my style of Hypnosis/Hypnotherapy is different from the conventional Hypnotherapist and how a problem can be sorted out so fast.
It all stems back to my early years as a Hypnotherapist in Belfast in the 1980's. Back then Hypnotherapy was a new Alternative treatment and many people viewed it with skepticism. Having trained as a Hypnotherapist, I then opened a small office in Belfast. I was the only Hypnotherapist in Belfast at that time and when one of the Sunday newspapers did a feature on me word started to get around that there was this guy who could help to sort people out with their problems in a very fast way. It just started to grow from there.
I saw the employed, unemployed, multi millionaires, TV, Radio and sports personalities, politicians, people from every walk of life ( to date I have seen well over 55,000 + people) you name it I've heard it , nothing surprises me any more.
Hypnosis Clinics in Northern Ireland
In a short space of time I had various Clinics throughout Northern Ireland and was working 7 days a week flat out. People were coming to see me from all over Ireland for various reasons and problems, along with the common ones such as Stop Smoking or to Lose Weight.
However, in Northern Ireland it was completely different from Mainland UK due to the many victims of the troubles. In those years counselling was very limited so I had to help thousands of people caught up in the conflict. Such as rescue service personnel who had to go into the aftermath of bombings or even the people caught up in the bombings, shootings, bomb scares, armed robberies, the list is endless.
It was because of this, that I stopped using my conventional training whereby people would normally be regressed into their childhood to try to recall the originating cause of their panic attacks, or other problems. This could take up to 15 sessions to achieve when clearly it wasn't in their childhood at all, it had happened to them right now and wanted it sorted out quick!


I came away from conventional Hypnotherapy and developed my own techniques, (also bringing in specialized
equipment from America to speed the whole process up and introducing laser therapy as well) plus cutting everything down to the fastest way possible, without losing any effectiveness to get these poor people sorted out.
Fast Track Hypnosis
Having developed these techniques I then called it Fast Track Hypnosis and I have been using this method ever since. I then developed my own Fast Track Stop Smoking in under 30 minutes and Weight Control sessions and more recently the Fast Track Gastroband – Gastric Band Hypnosis .
By dispensing with the unnecessary parts of a traditional session, eg I don't waste part of a session telling the person all about the health risks associated with smoking – everybody already knows that! It's straight into the session, thereby saving the client time and money."
New for 2014 Fast Track Hypnosis Gastroband

Gastric Band Hypnosis in Belfast in ONE 30 minute session!
THE MEDIA – PUT TO THE TEST!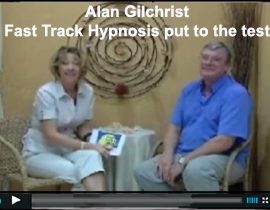 When I started doing these new techniques the media wanted to know if it really did work, so they started putting me to the test. I proved my "Fast Track Stop Smoking in 30 minutes" twice on TV on 2 consumer programs.
On another program I had to help a psychologist get over her agoraphobia, which I did in 4 sessions.
On another occasion a program featured me helping a person overcome their fear of flying, then the cameraman who was in the studio filming it came along to get over his flying phobia as well! .
Another showed me helping a young boy of ten years of age, who was having panic attacks. (He did not want to go to school because of these attacks, and tried to throw himself out of a car at 40 mph).
Again all these problems were resolved in a very short space of time (only 4 sessions were required). And over the years there were many other tests
 Enjoy my web site , regards Alan
Hypnotherapy Ireland / Hypnosis Centers in Northern Ireland: 
Hypnosis Northern Ireland in Belfast – Ballymena – Coleraine –  Omagh      
Click here for the Northern Ireland Hypnosis Clinics
Testimonial
"Recently I had the misfortune of being held up by a gunman at my place of work. I was in a terrible way – nervous and in a state of shock. I went to the doctors who gave me tablets to take but I didn't want to take them.
Alan did a session for me to help overcome the trauma and gave me a CD as well, which helped me to relax and it took away the nervousness I was feeling.
My breathing and sleep got back to normal, I sleep like a baby now and all without tablets !. The CD and hypnosis was unbelievable and better than any tablets – it's great now. Thank you Alan I couldn't have done it without your help, and I am now back at work again. J….."
Belfast Hypnosis Center – Alan Gilchrist
37 Lisburn Road
Belfast, BT9 7AA
FREEPHONE 0800 7311187 or 02890 333303